O.M.G. I only went and bought myself THE Carrie skirt!
I'd pretty much written it off, I'm MEANT to be saving for travelling, I'd never track it down in my size/the coral colour I wanted etc. It just wasn't meant to be (the logic I like to use when something I really want cannot be had for one reason or another).
But let me start from the beginning….
I decided to pay a visit to Whistles on Saturday afternoon, just to see whether they had the skirt… to see what all the fuss was about… (I mean, I hadn't paid enough attention to it on the Whistles staff member I met at the Westfield Golden Ticket Event as the free beverages had got the better of me!). So, I stepped in the store and had my very first Whistles shopping experience. And it was nice!
I know I know… nice? In my years of studying English, I've continuously been told that nice is a word that should never be used… but this is the only word I can think of to describe it. The store is ever so light and airy. There's pleasant music filling my ears. Just the right amount of stock is on display to make me want to look at everything and not feel overwhelmed at all.
A sunshine yellow, coral pink or highlighter blue skirt would jump out at me… so looking around the small-ish store, I'm sad when it's clear they don't have any. Instead I decide to go and fall in love with the Coral Angora Jumper (£85). Turns out its the same one in the picture I posted of the Taupe Carrie Skirt (only just realised this).
I take it off the rack… size 10 (it's meant to be oversized right?!), it feels ever so soft against my skin and the colour is lush. The fitting rooms are amazing with these thick curtains and expensive furniture. The jumper comes up a little too oversized… so I head over to the till… politely asking the sales girl: 'do you have this in a size 8?', off she goes… 'No, sorry' is announced on her return, which results in a sad yet relieved face from me (it's just not meant to be).
Seeing as I now have her attention, and they most definitely don't have the skirt (it would be out on show surely), I ask: 'Have you had any of the Carrie skirt in?'…. 'We have one in' she responds quickly…. My jaw drops. 'We didn't actually get any but Someone JUST returned it, she ordered it online thinking it was the shorter version!' She takes me over to where it is…. but there it is not, resulting again in a sad yet relieved expression ('twas not meant to be).
'I think someone's trying it on' she says kindly (again… not meant to be)…. I want to see it (just see it…. not buy it…. definitely NOT BUY IT) so I linger…. the lovely attentive sales girl asks whether I want her to ask the woman trying it on if she wants it…. my head is saying no, but my heart is saying YES YES YES! I accidentally nod my head. Totally accidental.
SHE. DOESN'T. WANT. IT. And then I see it for the very first time… in its glorious beauty… the coral colour, the pleats, the layers of fabric mingling in the soft light…..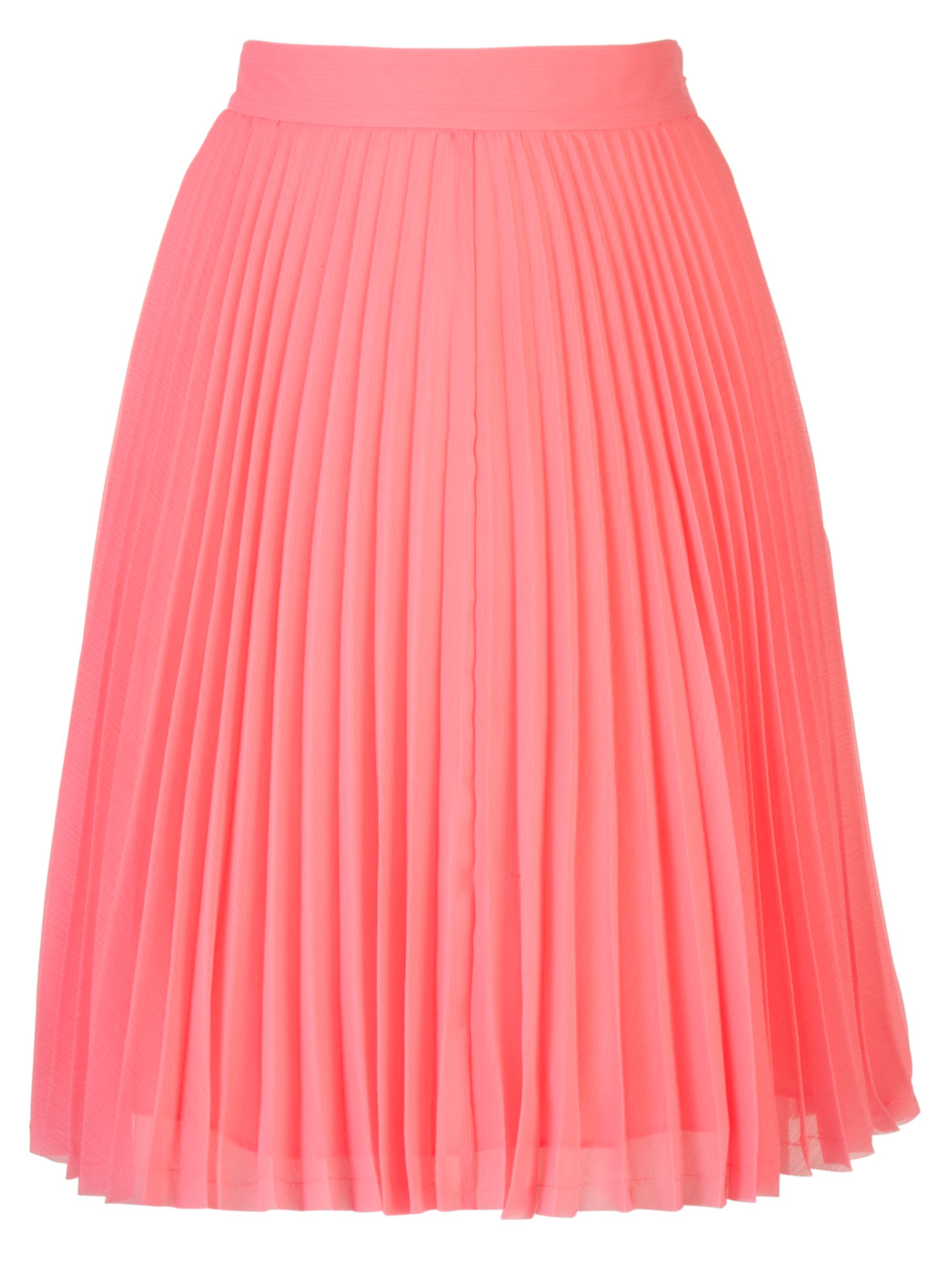 'Do you want to try it on?' lovely sales girl asks politely. It's a size 6…. definitely not going to fit me (sad-yet-relieved-it's-not-meant-to-be expression once more). Suuure why not spend a few more moments in the company of the IT skirt of the season.
I step into the luxurious changing room, take off my Topshop skinny jeans and black leather boots. 'It's fine… it's not going to fit', I say to myself. I try doing it up… and the zip gets STUCK….. the beautiful sheer layer has caught…. no no NO NO! Lovely sales girl is sneakily eyeing me up semi-naked in the fitting room spotting my difficulty asking, 'how is it?'. 'IT'S STUCK!!' I yelp. She comes to the rescue and sorts the problem out presto. IT FITS. IT BLOODY WELL FITS!
It's okay, as I have the boyfriend with me, who doesn't comprehend 'weird' fashion trends (his words) such as the midi pleated skirt. He will definitely say I look AWFUL… and that with £110 he could buy some really good headphones or something….
So I step outside, waiting for a guffaw or eye roll. But there he is sat on the expensive furniture smiling. SMILING! He only goes and says I look elegant and how I need to find the right occasion to wear it (occasion… who needs an occasion?!?). I think he must be joking… but no, he actually likes it. And how often do straight men like trends that don't involve bodycon dresses and hooker heels?!
So…. with everything coming together in such a way…. I decide maybe this time…. it is meant to be. Stepping towards the till, I say I'm going to get it. It's a little long on my petite frame but what the hell. I WANT IT… no! I NEED IT! Then MY skirt gets wrapped in Whistles tissue paper and put in a fancy Whistles bag. I feel special, out of all the women trying to track it down… the Carrie chose me!